NBCS SUSTAINABILITY
NORTHERN BEACHES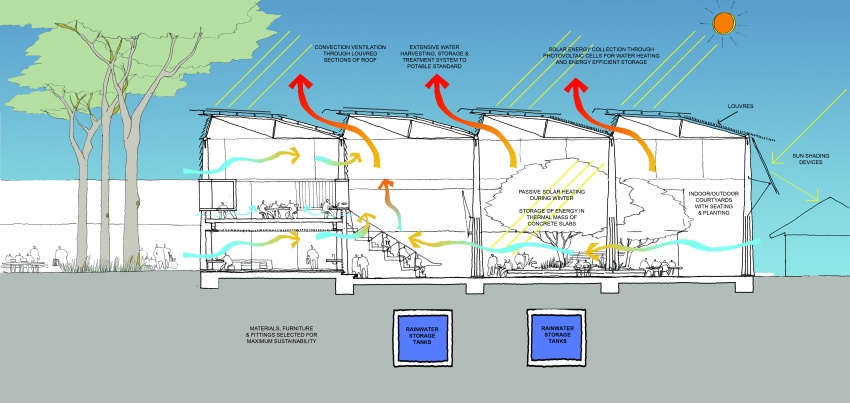 Challenge
To create an innovative new learning environment that incorporates collaborative learning spaces as well as administrative and student support facilities that forms the entry and central hub of the Northern Beaches Christian School in Terrey Hills.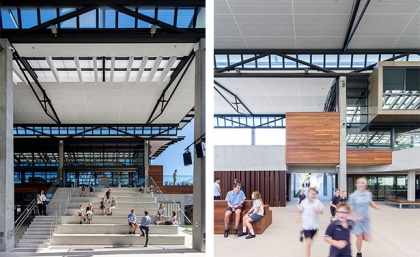 Solution
In this competition-winning scheme, WMK designed an innovative central 'canopy' that floats over new pavilion buildings and indoor/outdoor spaces to create flexible learning environments and interactive support facilities. The roof reaches out to engage and define the entry and back to connect with new and existing buildings.
The roof umbrellas an innovative marketplace food offering that is openable or closable as well as a series of indoor/outdoor learning spaces.
The pavilion structures accommodate flexible learning spaces, student support facilities and welcoming reception/administration services.
The canopy is a 'living' structure which generates energy, harvests rainwater, and cools the spaces below. The column design reticulates rainwater to underground collection tanks and then can feed stored rainwater back up to the canopy misting system.
WMK has designed for maximum use of natural light and ventilation, and windows and louvres in the building and canopy are automated to provide ventilation in direct response to climate conditions using a sophisticated Building Management System.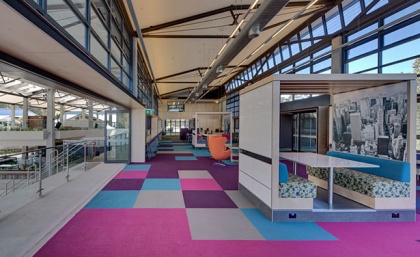 Outcome
The sustainability initiatives incorporated throughout the new built environment deliver beyond carbon saving and economic benefits however, engaging students in monitoring the resource efficiencies including waste, and leading the 'new normal' through active learning.
The project has been a finalist in many awards, received a Good Design Award, and also won the prestigious NSW Australian Institute of Architects Milo Dunphy Award for Sustainability.